Simplify customer experience with seamless payment
Businesses from e-commerce stores, physical retail stores or pharmacies, mobility platforms, fintechs or large corporates can use Fincra Pay-Ins to accept payments seamlessly from their customers locally & internationally.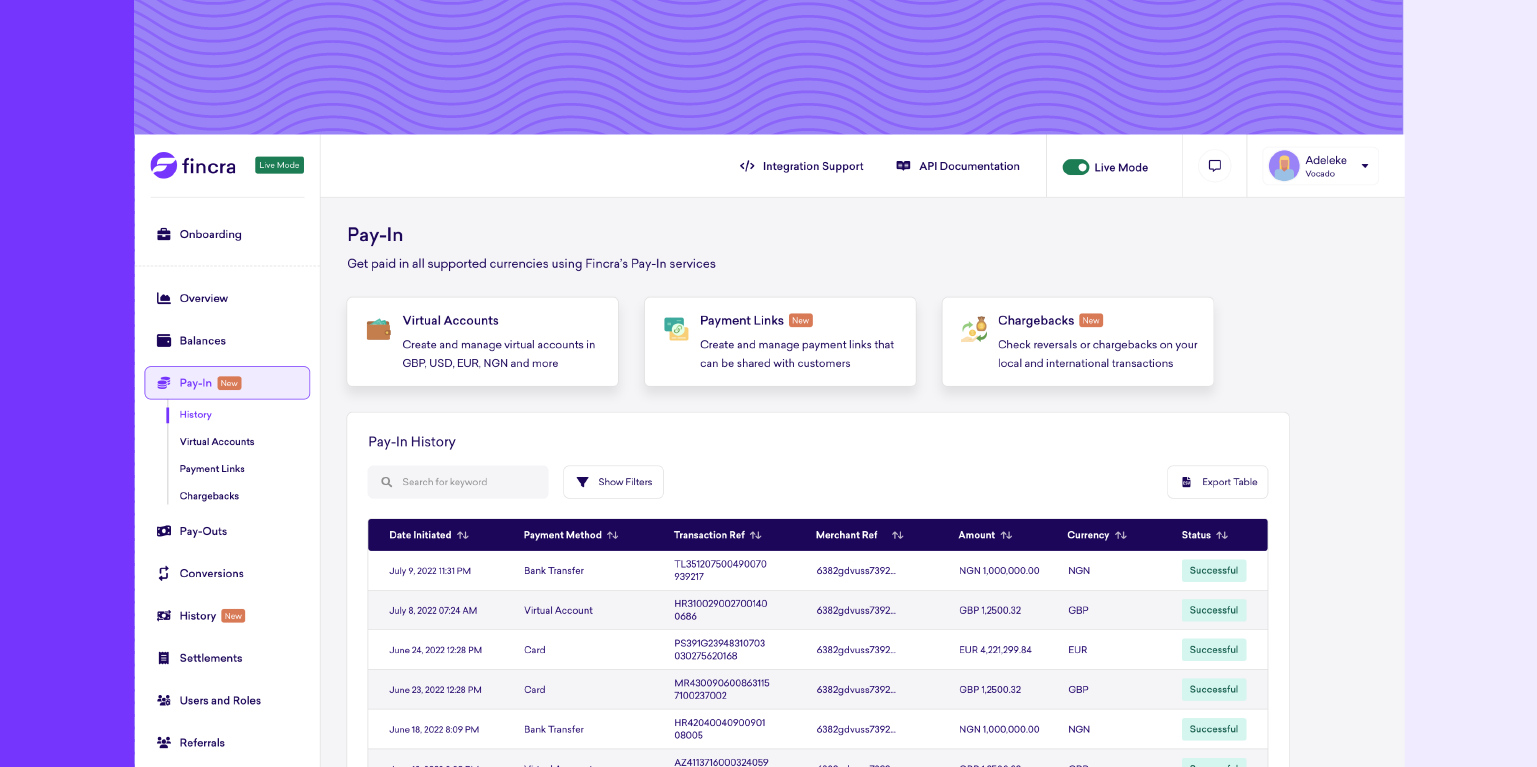 Different payment methods for your business needs
With Fincra Pay-In, businesses can choose the payment method that fits their needs. Fincra offers Virtual Accounts, Payment Links, Cards, Mobile Money, Bank Transfers, Wallets, POS Terminals and calling our easy-to-integrate API.
Sell to customers all around the world
Fincra supports collections in up to 40 currencies including USD, GBP, EUR, CAD, NGN, KES, GHS and more. You can easily collect payments from anywhere in the world, including the United States, the United Kingdom and Europe.
Integrate our API to experience our Checkout
Fincra offers a Direct API to build your preferred payment experience, allowing you to get paid via cards, Mobile Money, bank transfer and PayAttitude. Fincra also offers Payment Link services to accept payments with no code.



Accept In-Person payments with Fincra POS Terminal
Your POS can do much more than just process card payments. Fincra's POS solution adds the option of paying with bank transfers for businesses.
Accept card & bank transfer payments on a terminal

Instant settlement for all payments

APIs for developers to build custom payment flows on terminals

Dedicated technical support

SDKs for over five major POS types (and more being built)

Highest level of security with PCI compliance

White-label Terminal Management System for administration, monitoring & processing full end to end of Terminal Acquiring Operations.

Manage multiple devices seamlessly from one dashboard
We built the infrastructure, so you don't have to
With Fincra, fintechs and financial institutions can offer Pay-In services without building from scratch. Fincra has easy-to-integrate APIs for Checkout, Virtual Account, Payment Links and POS Terminals prebuilt to optimise for convenience and conversion.
NGN Virtual Account for easy payment
Create limitless NUBAN-compliant Virtual Accounts for your business from the Merchant Portal or API. Businesses can easily accept payments with the NGN Virtual Account, allowing customers to Pay with Bank Transfer.
Easy checkout
Fincra payments page provides an optimised checkout experience for your customers. There's flexibility and a variety of payment options available.
Easily sell online without a website
Customers can pay with a card, bank transfer and Pay with PayAttitude. Businesses without a website can get Fincra Checkout via a Payment Link.
Multiple ways to interact with our Pay-In product
Sign up and get an account in minutes and start receiving payments from over 150 countries
Payment Links: Create customisable payment links that can be shared to initiate a payment.
Virtual Accounts: For getting paid in all Fincra supported currencies
Direct API: A

direct API to build fully customised payment experience

Checkout: Fincra's Checkout flow dynamically adapts to your user interface, customer's device and location to increase conversion and optimise customer experience.
Terminals: Request for a point of sale terminal to receive in-person payments
Security and Compliance Focus
Fincra operates with the highest level of security and compliance required of a payments infrastructure.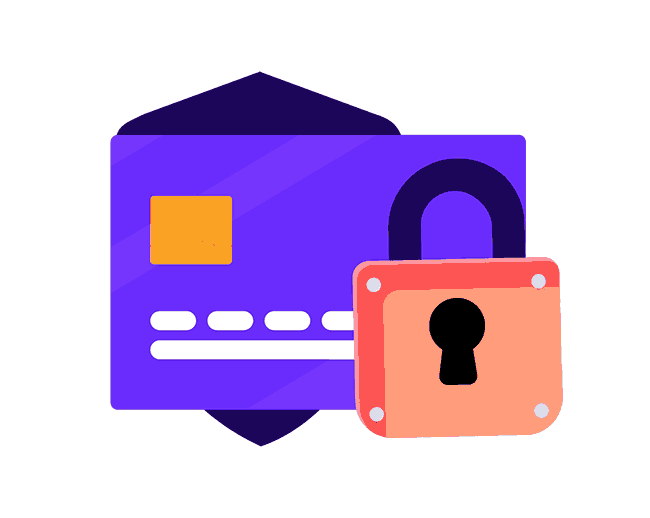 PCI DSS Level 1
Fincra is PCI DSS certified
PSSP Certified
Fincra is a licensed Payment Service Solution Provider
NDPR Certified
We abide strictly to the Nigerian Data Protection Regulation
KYC and AML
Seamless Know Your Customer and AML checks
MSB Canada
Fincra is is a licensed Money Service Business in Canada
MFB Nigeria
Fincra was issued its Microfinance Bank license in Nigeria
Enable your international customers to pay you through methods they are most comfortable with to increase your revenue.
Fincra supports 40+ currencies and offers a single API for cards, mobile money, bank transfers, virtual account issuance & wallets.
Checkout Standard
Checkout Redirect
Direct API
Payment Links
In-Person
Whitelabel Terminal Management System
Fraud & Dispute
3D Secure
Refunds Management
Transaction Reports
Conversions (For managing settlement currency)
Settlement Reports with advanced filter options & CSV exports
Manage settlement account & destination
Virtual Accounts
Cards
Mobile Money
Bank Transfers
Wallets
Terminal
Fincra Portal
Roles & Permissions
Account Security
Identity Verification
Fincra's Pay-In product helps you accept credit cards, debit cards, create virtual accounts and get paid using common channels globally. We support all major card schemes, currency conversions, and much more
dependent on the Pay-In channel
The complete payment solution
Fincra helps businesses across Africa with solutions-via merchant dashboard, APIs and white labelling- to send and receive money locally, internationally, online and offline.